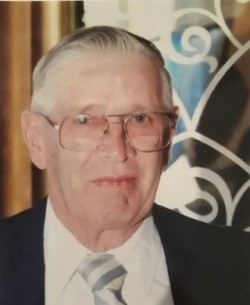 Remembering Ross Whyte (1931-2022)
Ross Whyte lived his whole life on Braebank farm on Covey Hill. He was a dairy and apple farmer. The Braebank herd, started by his father Robert, was a part of the Canadian Ayshire Association and was passed on to his son Doug until the herd dispersal in 2016.

He became a board member of Havelock Fair in 1960, a position his father had also held. His domain in the later years was the fruit and vegetable building. Over the years, with suggestions from judges and exhibitors he helped develop an amazing array of fruits and vegetables to be shown and judge at the fair.
Ross married Gretta McKell in 1955 and together they raised children Wendy and Doug on the farm. They later welcomed son in-law Doug Fitzgerald and daughter in-law Sylvie Lussier. Six grand children and five great grand children rounded out the family.
He was very interested in local history having an amazing memory of people, places and events over his 90 years on the Hill. He had recently contributed to a showing of pictures of Havelock and the surrounding area, having names and dates to add to the presentation. He always enjoyed sharing stories about the Hill and its residents of the past.
On fair day, many people who had moved away came home to reconnect with Havelock and old friends and family. Ross enjoyed seeing them and catching up on the news over the past year.
He was an integral part of Covey Hill and the Havelock Fair community and he will be greatly missed.